Soaring lumber prices are adding thousands of dollars to the cost of a new home, pricing out millions of potential home buyers and impeding the residential construction sector from moving the economy forward, according to NAHB.
"This calls into question for many builders: Do you know your numbers? Are your margin and markup calculations correct? Are your budget vs. actuals adjusted to reflect your construction agreement terms and conditions? The more builders we work with at CLB Finance, the more we realize that many of our clients don't seem to understand exactly what margin vs. markup means – and the implications of getting it wrong." ~ Mike Myers, CLB Network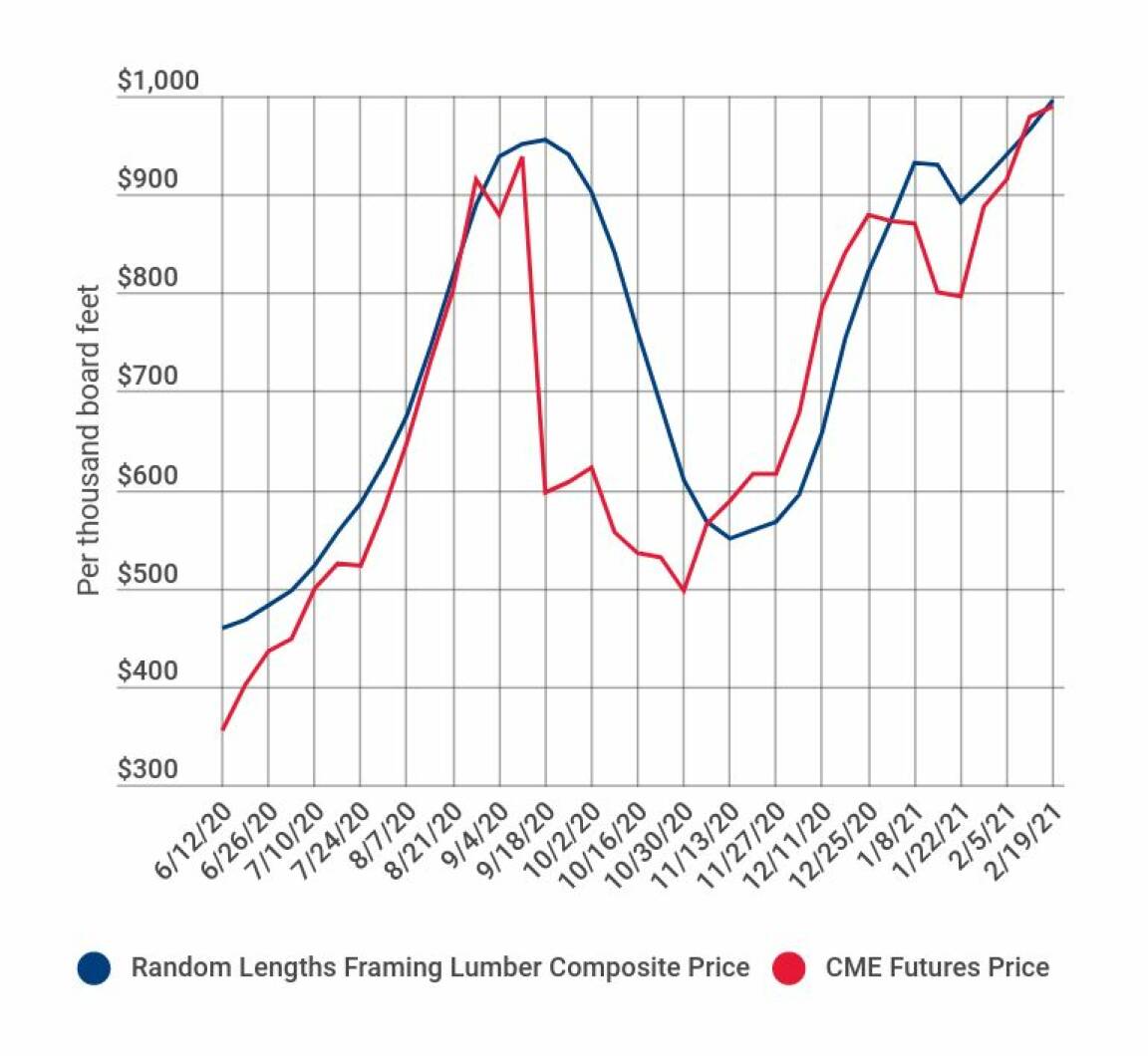 "According to Random Lengths, the price of lumber hit a record high this week and is up more than 170% over the past 10 months," said NAHB Chairman Chuck Fowke, a custom home builder from Tampa, Fla. "NAHB is urging President Biden and Congress to help mitigate this growing threat to housing and the economy by urging domestic lumber producers to ramp up production to ease growing shortages and to make it a priority to end tariffs on Canadian lumber shipments into the U.S. that are exacerbating unprecedented price volatility in the lumber market."
Lumber price spikes are not only sidelining buyers during a period of high demand, they are causing many sales to fall through and forcing builders to put projects on hold at a time when home purchases and demand are on the rise and inventories are already at a record low.
Impact in Local Markets
"The increase in lumber prices is forcing our company to delay construction starts, which will only exacerbate the lack of supply in our market," said NAHB First Vice Chairman Jerry Konter, a home builder and developer from Savannah, Ga.
Alicia Huey, a high-end custom home builder from Birmingham, Ala., and second vice chairman of NAHB, said that the price of her lumber framing package on an identically-sized home has more than doubled over the past year from $35,000 to $71,000. "This increase has definitely hurt my business," she said. "I've had to absorb much of this added cost and even put some construction on hold because I would be losing money by moving forward."
"Appraisers are not taking rising lumber costs into account, which is disrupting home sales and preventing closings," added NAHB Third Vice Chairman Carl Harris, a custom builder from Wichita, Kan.
Access to Building Materials Top Concern
Housing has been an economic bright spot amid the COVID-19 pandemic, but the industry's potential to lead the economy forward is limited as long as lumber remains expensive and scarce. A recent survey of NAHB members reveals that 96 percent said that inconsistent access to building materials are their most urgent concern. In turn, supply shortages are leading to soaring prices. And it's not just skyrocketing lumber prices that builders are dealing with. The price of oriented strand board has more than tripled since last April.
"Clearly these price increases are unsustainable, particularly in light of a continued housing affordability crisis," said Fowke. "Given this ongoing period of high demand, the Commerce Department should be investigating why output from lumber producers and lumber mills are at such low levels."
FREE CHEAT SHEET
How To Calculate Margin And Markup For Construction
To learn more about construction margin vs. markup, we put together this easy-to-follow infographic how to calculate margin and markup the easy way.
The Certified Luxury Builders Network leads luxury builders to greatness. Since 2016 CLB Network and builders across the nation with annual sales ranging from $5M - $50M have worked together to deliver a 5-Star experience and become market-leaders. Working with one great company at a time, CLB gives builders the tools, training, and support to achieve success in Quality, Profit, and Pipeline freeing leadership to work on—not in—their business.
We're here to help builders. Experience and expertise is just a click away. Contact us today to see how your business measures up to our builders' benchmark, learn what "GREAT" looks like, and see how CLB can take your business to the next level.