Dominate Your Market With CLB's Geofencing Advertising Solution
Micro-Target Your Ads To Potential Buyers At Any Location on the Map - Competitor Locations, Places of Interest & More
Your drive to connect your brand with best-fit clients, doesn't stop at just search, and neither do we.

Are you wasting your marketing and advertising dollars on people who are not motivated or your best-fit clients? Why market to everyone when you can market, attract, and connect to those people who are your best-fit, display motivation, and the intent you desire?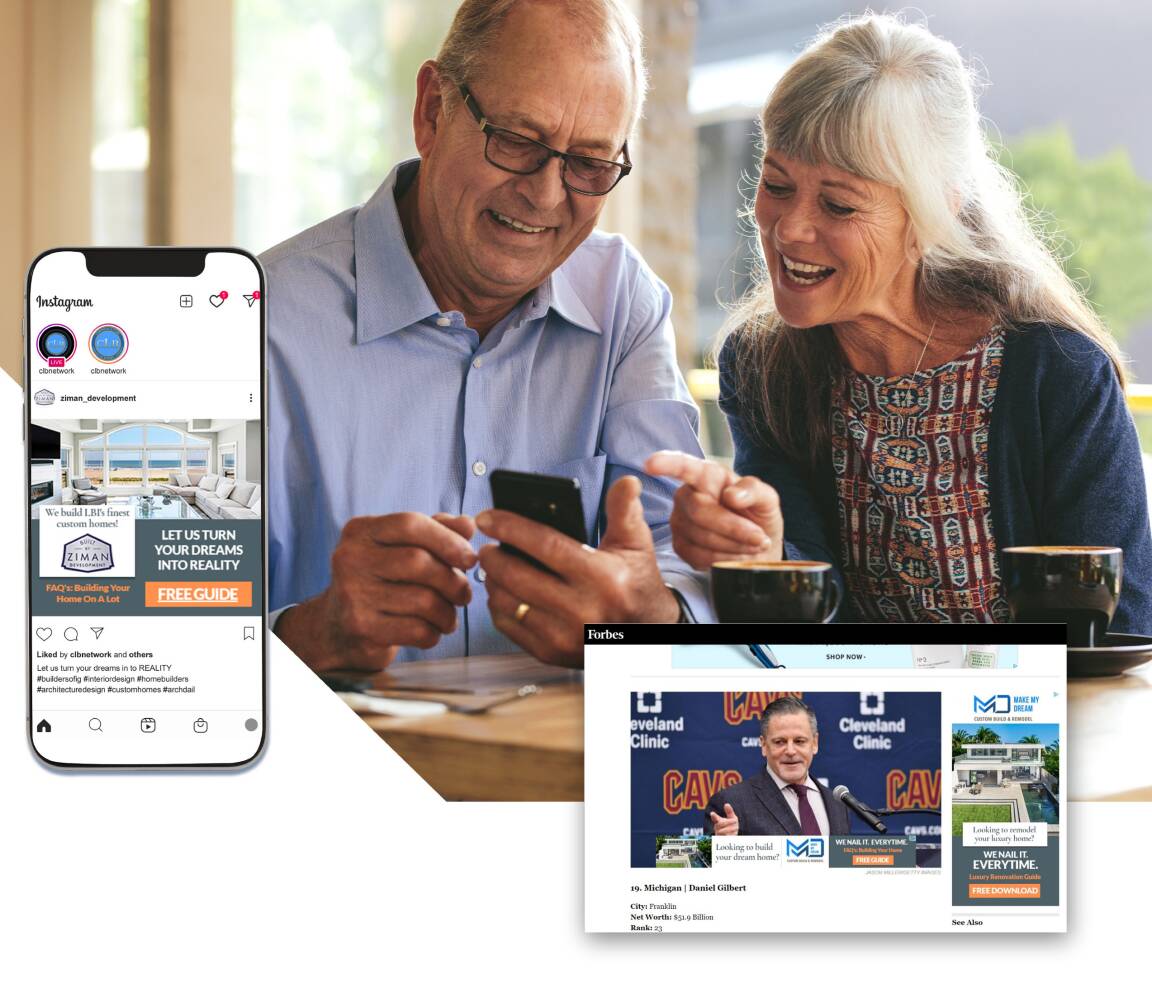 Proven Results: See What Builders Are Saying
Real Builder Reviews of our Geotargeting ADs for Builders
87% of buying decisions begin with online research. Only 22% of businesses say they're using hyperlocal targeting to its full potential.


Why aren't you?
Learn How Geofencing Advertising Ties In With Your Construction Marketing Strategy

Certified Luxury Builders' Geo Target Solution provides luxury builders & remodelers an unparalleled advantage over their competitors. Our solution identifies your geo, psycho and demo-graphic best-fit client characteristics and finds them when they are showing actual real-life intent to plan, buy, build or remodel a home.
Unlike conventional advertising, geofencing ads enables Certified Luxury Builders to activate audiences who display intent to plan, buy, build, or remodel a home with precision to drive website visits.
You can serve static banners or video ads directly to people in very precise locations, all the way down to the contours of buildings; such as competitor locations, open houses, individual homes, high-end dealerships, country clubs, top restaurants, high-end hotels, and even strategic referral partners' offices including realtors, architects, designers, mortgage brokers, title brokers, wealth managers, and family wealth offices.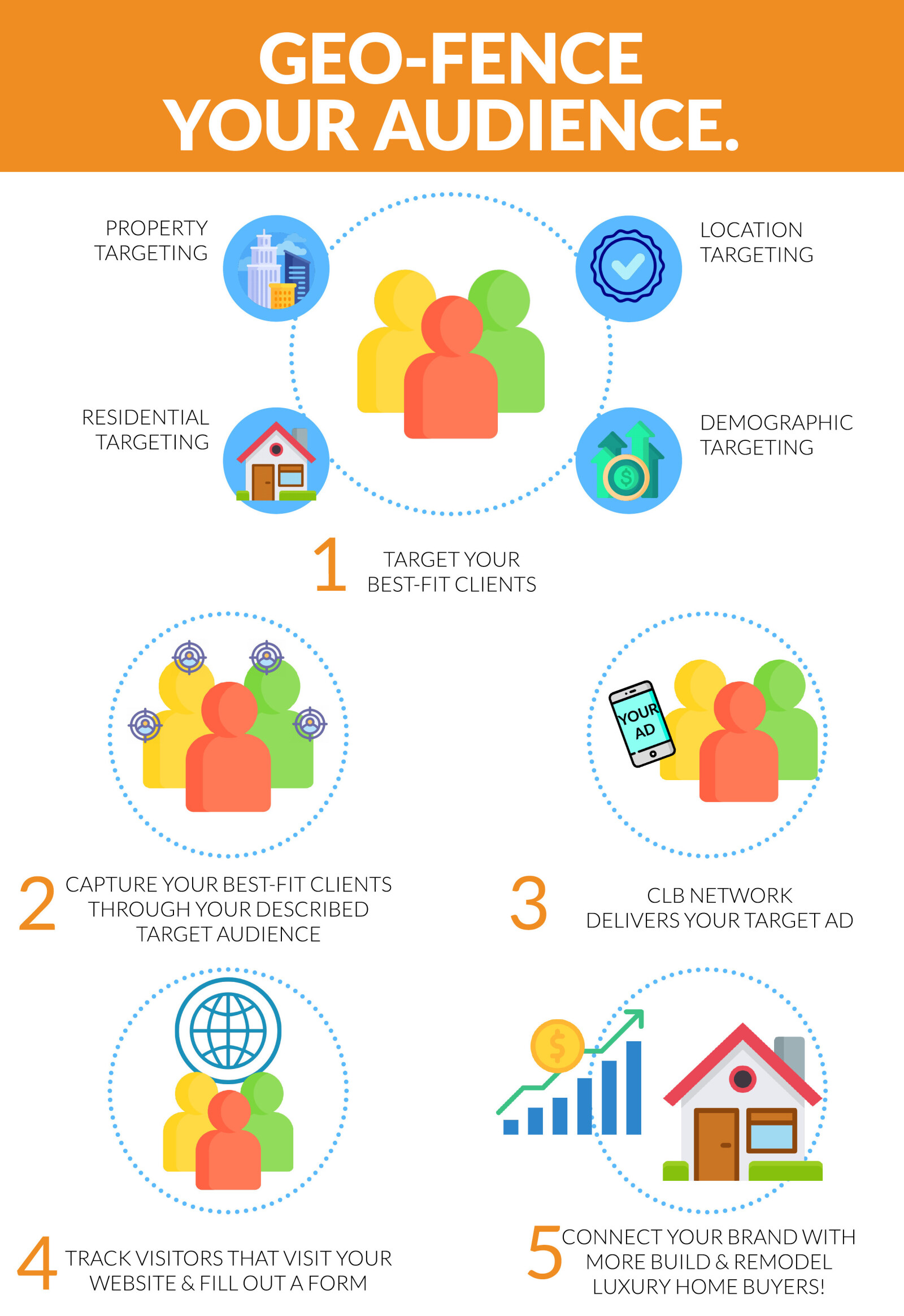 Geofencing Advertising: Learn The Process & The Key Benefits
How Does It Work?

When the location services on a mobile device or in a mobile app is turned on, our mobile targeting technology captures the device ID whenever a prospect walks into the virtual geofence we built. Once prospects are placed into our retargeting pool, we can serve your construction ads across hundreds of thousands of mobile apps and websites while those consumers are inside the geofence, and even up to 30 days or more after they've left geofence. Because we know where they are and the content they are interacting with, we intersect your brand with engaging content.
Key Geofencing Advertising Benefits
The best part? Through CLB's conversion zone tracking technology, you can measure website walk-in conversions, including those who walked into your office location or open house after seeing or clicking on your ads. You can use geofencing advertising for client loyalty programs, competitor conquesting, direct mail campaigns and events, and even layering some geofencing with connected over the top TV advertising campaigns. Read about more of the key benefits below:
Target current homeowners and those in the market to buy a home
No IT requirements necessary
As long as location services on the mobile devices of those travelers are turned on, we can serve ads to them on those same mobile devices (and 90% of individuals typically have location services turned on!)
Target location visitors for 1 – 30 days
Serve ads across the 600,000 apps we have access to, as well as in browsers (Chrome, Safari, FireFox, Internet Explorer)
Granular localization via custom shapes & sizes
Retarget customers who visit or commute through any geo-fenced location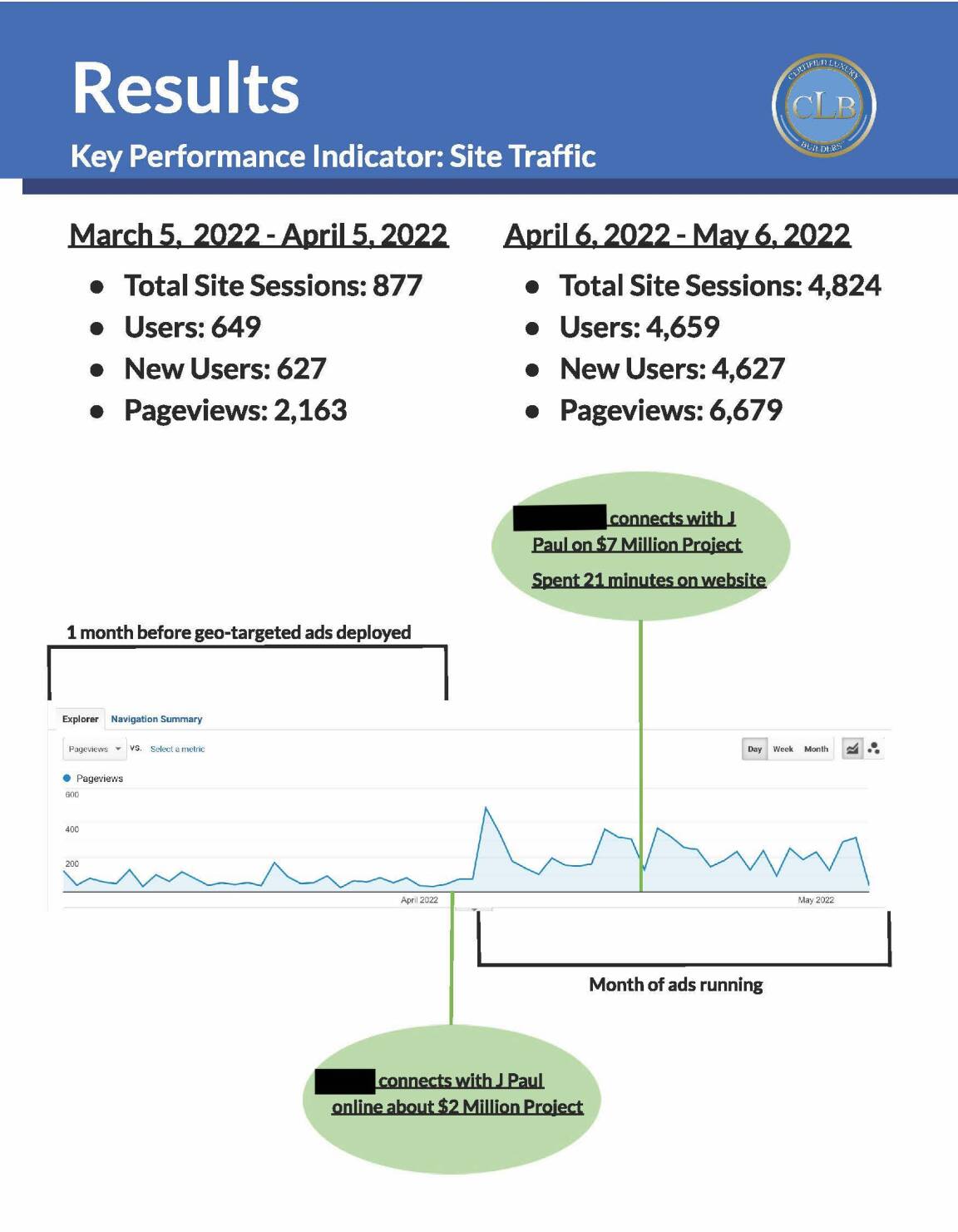 What Does The Geofencing Process Look Like For Builders?
Digital Analysis - This forms the basis of your digital needs, allowing our team to understand your ideal customer, your business goals, any existing advertising and marketing you're doing, and how we can develop a digital plan of action.
Creative Development - What will you say when you show up? That question matters more than anything. Here we take your messaging and build ads around it.
Campaign Development - From demographic, geographic, and behavioral targeting to campaign objectives, we will build a granular campaign to reach your target audience.
Analytics/Reporting - Here we pull all our advertising together into a clean reporting system that you can easily review and dissect.
Optimizations - After running the campaign for 1 – 2 weeks, we start our optimization process with split testing ads, changing targeting parameters, and checking CPA goals.
Geofencing advertising helps you connect with best-fits who intend to plan, buy, build or remodel a home, drive more leads, elicit engagement, and improve your brand awareness. If you're looking to connect your brand to every best-fit client, and have the luxury of choosing which clients and projects to work with, then this is your solution!

Stay ahead of the competition and dominate your market with Certified Luxury Builders' Geo Target Solution by contacting us today for your free estimate.
Start Targeting & Converting Today
Geo-Fencing For Builders
To learn how geo-targeting ads for contractors and custom home builders is essential to your marketing strategy and your pipeline we put together this post.