Solution Overview: What Type Of Accounting Do Construction Companies Use?
Certified Luxury Builders' accounting and finance team can help you increase productivity, raise profitability, and stay compliant.

Our unique approach is builder-centric, by and for builders. Owners, contractors, and subcontractors face unique accounting challenges that can hinder profitability and more often that not leave them asking - how do construction companies keep books? What is the most popular construction accounting software? What should I look for in construction accounting software? When you have the right team, processes and systems tracking, reviewing, and communicating what you need to know about your numbers, you can focus on the activity you're passionate about.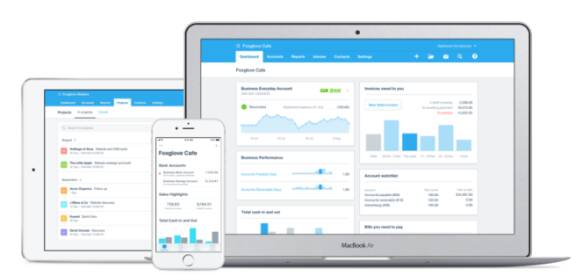 Problem
Underpinning the growth and profit of Luxury Builders and Remodelers is effective planning, processes, accounting, financial analysis, reporting, budgeting, data analysis, and benchmarking. CLB clients are highly sensitive to shifts in their balance sheet and cash flow. Their ability to monitor financial performance in near real-time and plan ahead is crucial. Many builders fail to have the right resources, personnel, systems, and processes to make these activities strengths and they continue to struggle with the challenges.
Solution
At its core, CLB finance is a solution built for builders by builders. It is an easy-to-use but powerful cloud solution. CLB provides a growing family of connected solutions to help:

Manage inconsistent cash flow

Know your cash position
Generate timely financial statements that accurately reflect the work being performed
Convert operational performance into meaningful financial reports
Collaborate with your finance, accounting, bookkeeping, and other team members

Quickly get change orders priced, approved, and billed

Work through the draw request process

Accurately evaluate operational efficiency

Establish competitive price while maintaining profitability

Enable accounting to be available anywhere, anytime, and on mobile devices

Enable accountant tools for field and office intake, management reporting, and final accounts production

Run your business on the go

Gain control of your financials

Get paid faster

Reconcile in seconds

Our solution has multi-layer security, encrypted data and always backed up to give you the protection and confidence you need.

With CLB Finance, you don't have to worry about your accounting and finance activities:

Outsourced accounting

Financial analysis and reporting

Budgeting, planning and benchmarking

Data analytics

Business process improvement

Valuation

Strategic analysis
Accounting and Bookkeeping: Scope of Work
Professional, scalable, worry-free accounting.
Weekly:

Accounts payable (bill entries)
Recording deposits
Bank Reconciliations (ad hoc entries)
Credit card entry and reconciliations

Payroll entry (into QuickBooks)

cost based on number of employees
Monthly:
Controller review of accounting
Accountant review of bookkeeping
General ledger maintenance
Formal monthly closing of the books, properly accrued, expenses matched Fixed asset maintenance/depreciation Sales tax 1099s Financial statements prepared and reviewed Hosting with QuickBooks Enterprise Cloud-based with local, full time IT support
Services Delivered
Accounts Payable
WEEKLY:
Bill processing
Credit card and bank transaction processing
REPORTS AND ASSISTANCE
Aging reports
Vendor setup
Month- and quarter-end assistance
Audit assistance
Year-end assistance
Accounts Receivable
WEEKLY:
REPORTS AND ASSISTANCE
Aging reports
Customer setup
Month- and quarter-end assistance
Audit assistance
Year-end assistance
Timecards & Payroll
Time Card Processing
Payroll Processing
Workers Comp
Tax filing
Timecard entry
Employee setup
Deduction and earn code setup
Wage setup
Miscellaneous deduction recording
REPORTS AND ASSISTANCE
Incentives and Bonuses
Vacation Policy
Third-party sick pay
Payroll corrections and check reissue
Employee Handbook Compliance
*cost based on number of employees
Banking
Cash account reconciliation
G/L journal entries
Month- and year-end entries
Financial statements
Lost checks and deposits
G/L account setup
Audit assistance
Month- and quarter-end assistance
Year-end assistance
The client is responsible for:
Payroll entry
Invoicing, billing, collections
Bill pay
Contract preparation
Contracts management
Change order management
Vendor management
Inventory management
Credit & return management
Customer service
Document & Record management and system
Hire and staff office or general manager
CLB will educate client on best practices process and procedures to be highly efficient and effective.
*CLB will provide a template document & record management file system and processes for the business and to be compliant.
*CLB will provide templates for job description, salary range, hiring process, and offer letter.
Monthly Accounting and Bookkeeping For Construction Companies
Timely. Accurate. Relevant.

What if you had great numbers that you had confidence in, that you could act upon to make your business better? That you could use to help your team work better? What if you had a team of accounting and finance pros who had you covered from paying your bills to making sure your books were properly closed out in a timely fashion in a predictable time after every month?
Stop wasting time and worrying. Start focusing on running your business better!

CLB Finance offerings consists of teams of finance and accounting professionals at all levels who are passionate about the businesses of our clients.

Our employees form teams of professionals capable of providing services normally associated with Chief Financial Officers, Controllers, Financial Analysts, Accountants, and Accounting Specialists. CLB Finance brings the concept of "timeshare" and "team" to each company according to its need.

CLB Finance business model is based on the reality that a typical small or medium business has a need for some fraction of each of these resources but of course, cannot afford to hire one of each. CLB has pioneered an approach that provides a total solution, complete with a team of specialists armed with specialty business processes and tools for a price that is affordable to small and medium-sized businesses.
CLB Finance delivers results that you may not think are possible. Dare to dream about having timely, relevant and accurate information focused on how you make decisions. Imagine having a truly integrated view of your business focusing on the goals and potential that you define. Imagine having a world-class strategic and analytical business partner singularly focused on getting the most out of your business.
All for a price you can afford.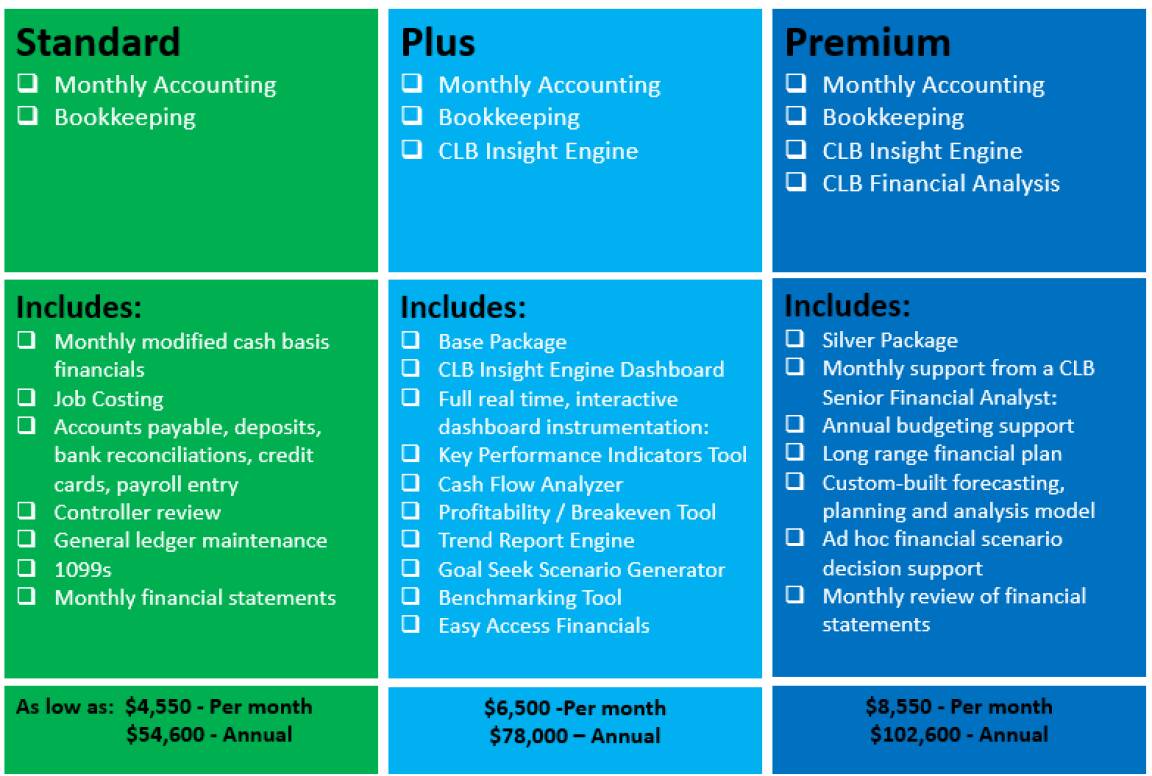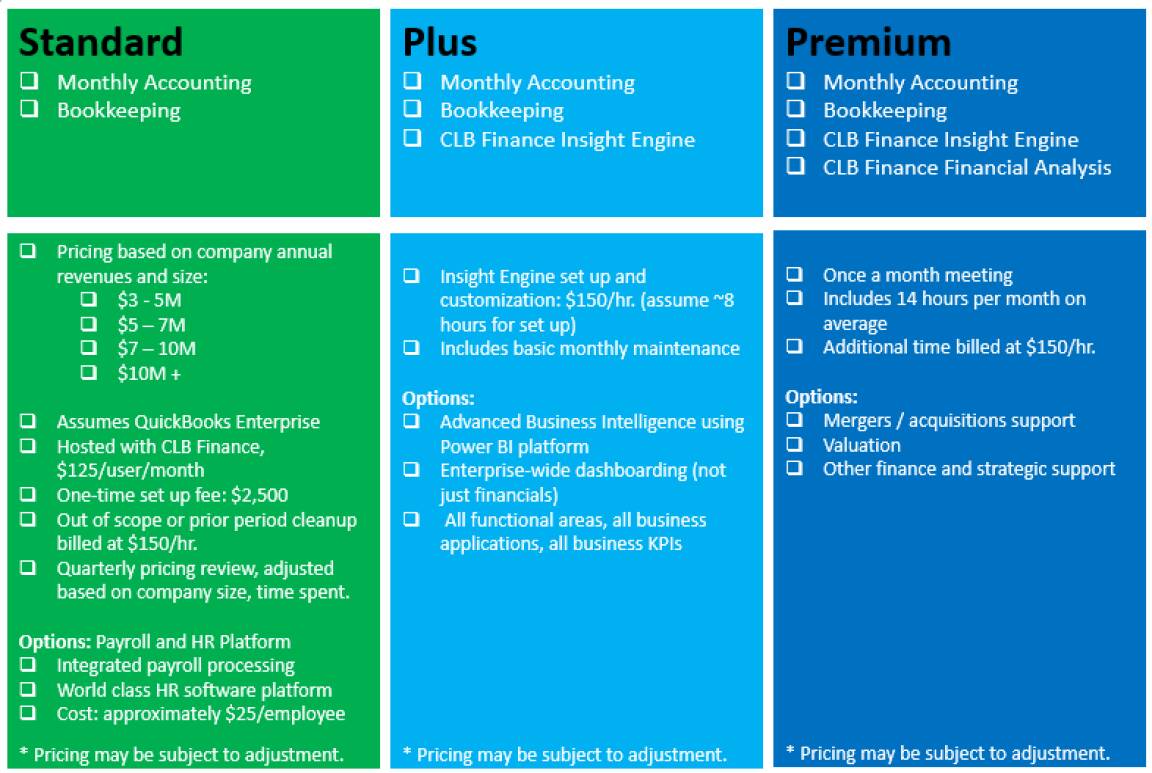 Plus and Premium Financial Reporting
Timely. Accurate. Relevant.
Our outsourced financial solution works exclusively with the building industry. We have experience helping companies like yours improve cash flow, reduce workload, apply best practices, and streamline processes. Ever wonder what happened to your cash? Looking at sales and expenses once a month only gets you so far. Cash gets tied up in things like accounts receivable and inventory. This powerful tool lets you walk all the way from your revenues to what ended up in your bank account—providing you a new level of insight into your business.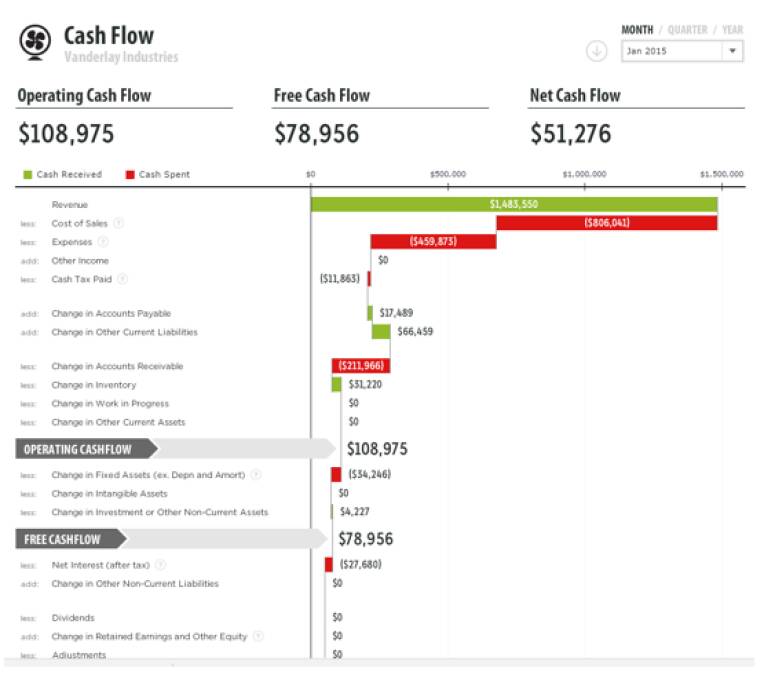 What if you had great reporting and analysis that you had confidence in, that you could act upon to make your business better? That you could use to help your team members work better?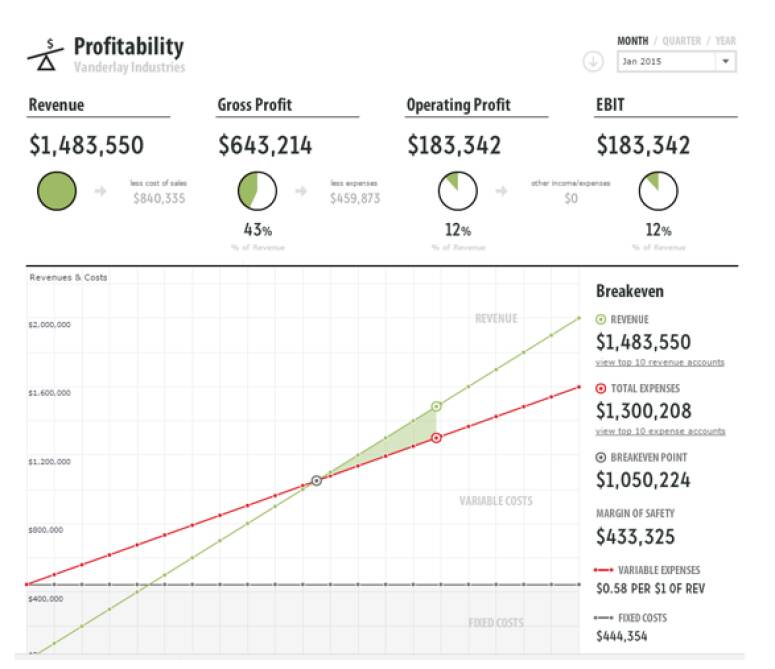 What if you had great reporting and analysis that you had confidence in, that you could act upon to make your business better? That you could use to help your team members work better? What if you had someone who was analyzing your numbers, covering all the bases for you, watching for even the smallest changes like a hawk? What if you had an expert in your business who owned the numbers and could leverage our expertise to help you reach your goals?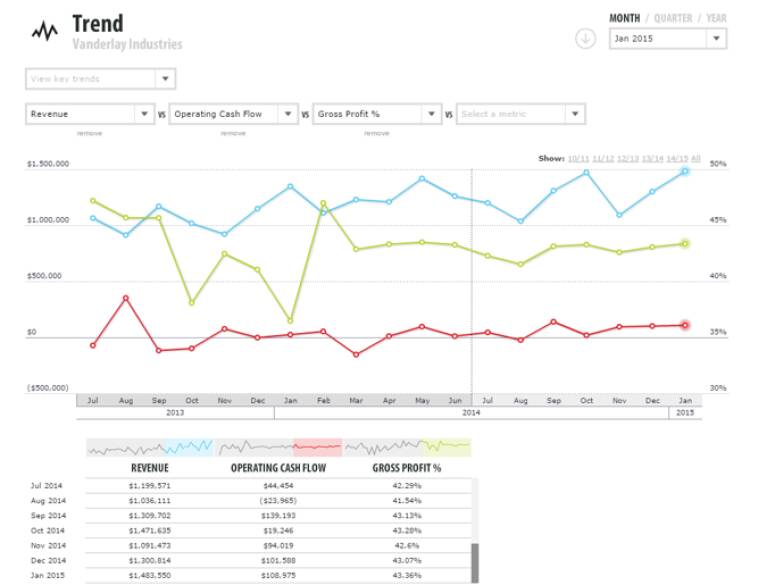 Quickly and easily see the trends in your business that matter over time. Correlate activity and dates to the results to better plan and execute.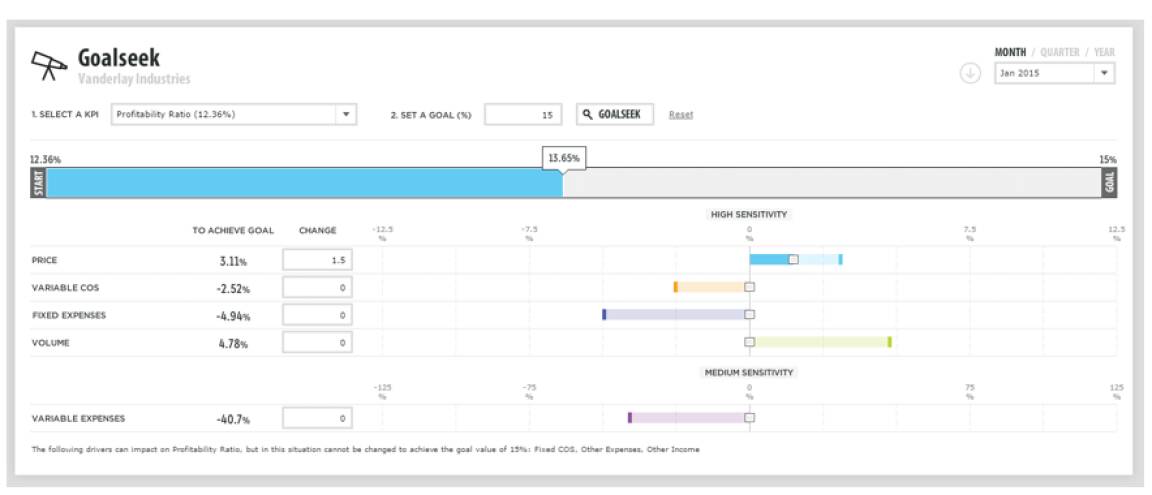 Do you know when and at what point your expenses flatten and your net profit accelerates? What if we increased your profitability to 10%? Is that achievable? What do I need to do to get there? We understand your profitability and cost structure. With CLB's Insight Engine, you can leverage this knowledge to explore the potential for your business. You can evaluate various goals that are aggressive yet achievable-- and instantly understand the requirements to get there. Having a strategy to build assets and create value supports your legacy and selling your company one day.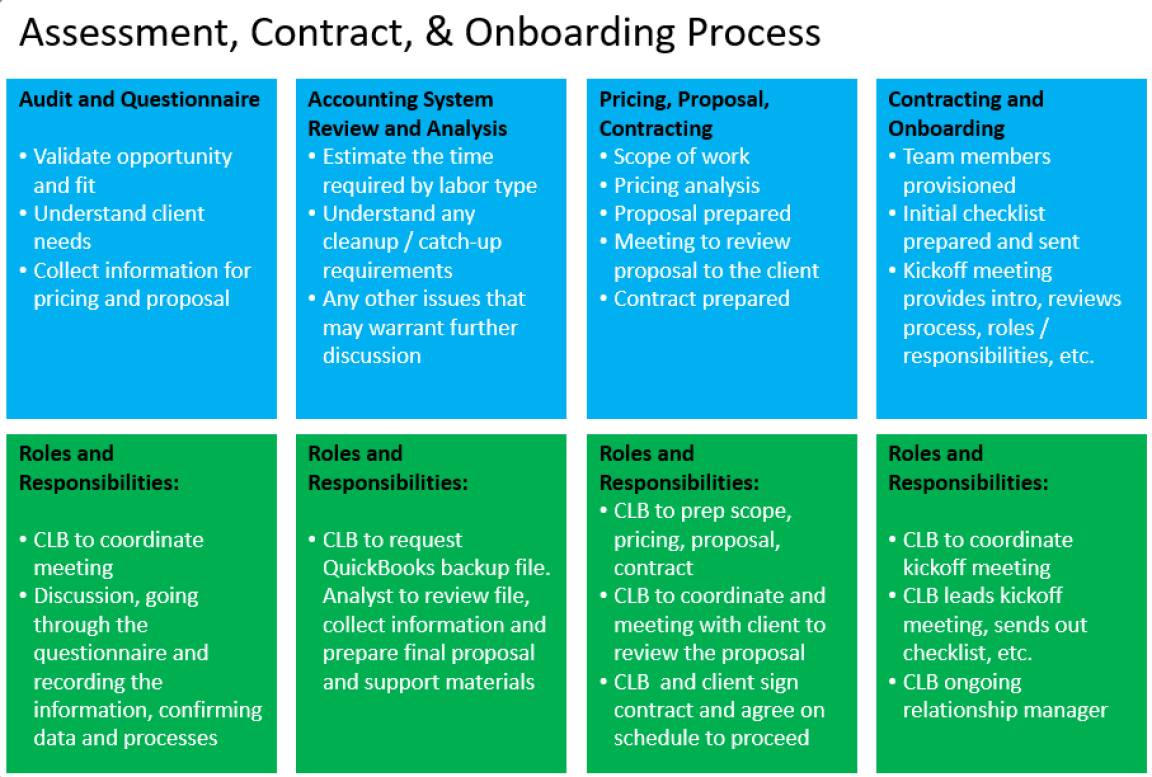 Our Approach and Process
We start with an audit of your strengths and weaknesses.

We collect additional details, to assess your specific situation with a questionnaire.

We have a conversation where we listen and discuss changes and how they might impact your goals, problems, challenges, timeline, and budget. At the meeting, we share your estimate and timeline.

We have a confirmation meeting

After analysis, we make a recommendation for you to consider as an option. If we are in agreement, we provide a customized plan with specific tasks and deliverables so there is no guessing as to who, what, where, and when.
We sign-off on the plan and begin implementation together.
Upon completion of the implementation, we move to execution, managing, monitoring of normal daily, weekly, monthly tasks, reporting, and business.
Step 2 Client Intake Questionnaire
You already took the assessment and got your results. Let's take the next step to see it this is the right fit and budget for you.
CLB would like answers to specifics questions to help us scope and size your solution. Please let us know if you have any questions.
What is your annual revenue?
Standard – $3 to 5 million
Plus – $5-10 Million
Premium – Over $10 million
What is your projected revenue for the following year?

How many transactions per month
Small – around 100
Medium – around 250
Large – over 300

How many Employees?
Standard – less than 10
Plus – less than 20
Premium – over 20

Please send us your chart of accounts?

Please send us the following financial statements:
Income Statement
Balance Sheet
Statement of Cash Flows

Do you have a company budget?
Please send us your Company Budget?

Do you have a job budget?
Please send us an example of a job budget?
Do you audit your jobs for profit and loss?
Please send us an example of a Job Profitability Report?

What is your target margin on each of your jobs?

What is your gross profit %?

What is your net profit %?

Who Is Doing The Bookkeeping? (Check All That Apply)
Me
Family member
Friend
Employee
Freelance Bookkeeper
Bookkeeper Service
Tax Accountant
What construction job costing software are you using?
QuickBooks Desktop
QuickBooks Online
Other
Pain Points
Job Costing
Net Profit Analysis
Quarterly Tax Returns
Annual Tax Return
Business / Personal Payroll
QuickBooks Setup
QuickBooks Cleanup
Bookkeeping Services
Financing
Bank Draw
Consulting
Invoicing
Estimating
Systems
Loans
Lines Of Credit
Catch Up Bookkeeping
Reports
Free up time to do less admin and more important things
Other

What is the highest priority where you need help?
Additional Outsourced Services for Luxury Builders
CFO, controller, staff accounting, and payroll services
Key personnel role descriptions and hiring plan
Assistance obtaining financing
Audit preparation
Bonding assistance
Certificate of insurance tracking
Claims accounting
Finance department assessment
Financial report preparation
Job cost tracking and analysis
Lien waiver tracking
Operational metrics development
Pay applications and draw request process
Project performance analysis
Retainage process management
Revenue recognition analysis and implementation
Software selection and optimization
Transaction support and due diligence
Industry-specialized services
Business planning with executive and key management
Claims, disputes, resolution, and litigation
Consulting on business structure and tax reporting methods
Cost verification
Evaluation of financing, bonding capacity, and cash flow
Evaluation of business investments on the financial position
Management processes
Market trend analysis
Project cost and overhead analysis
Risk management, business operations, and technology consulting
Succession and ownership planning
Assurance and tax services
Audit, review, and compilation of financial statements
Employee benefit plan audit, tax, and consulting
Evaluation of changes in tax regulations and the impact on planning strategies
Federal tax strategies, credits, and incentives
Research and development credit
Energy tax credits and incentives
Industry-specific tax methods
Fixed asset study
Work Opportunity Tax Credit (WOTC)
New Markets Tax Credit
Historic Rehabilitation Tax Credit
Individual tax
Federal, and state and local tax planning and compliance
Specialized advisory services
Business management and strategic planning consulting
Enterprise risk management
Forensic auditing
Fraud misconduct and investigations
Fraud risk management
Information security
Internal audit
M&A advisory and investment banking
Transaction support
Wealth advisory
Legacy planning
GUIDE: What Makes Construction Accounting Different?
In this guide we walk you through everything you need to know to run a successful and highly profitable business - the foundation of construction accounting, why it is different, and the 5 key financial ratios you can use to measure the performance of your business within the construction industry.