To continuously improve lead conversion and grow, luxury home builders need to consistently provide content while also remaining fresh and ahead of the industry.
Blogging is not only a huge traffic generator, but it also serves as a way for your target audience to find and engage with your brand before they make any big decisions.
At CLB Network, we help luxury home builders implement proven marketing and sales processes to grow their companies, and part of our strategy involves designing and running a successful builders blog for each of our clients, consistently providing useful and relevant content for their website visitors. By creating engaging and unique blog posts that capture the desired audience's attention, our blog content strategy leads to more contract wins for our Certified Luxury Builders. Our latest case study focuses on Deffenbaugh Homes, a Sioux Falls builder, whose blog got 60,000 views from top ranking on Google. Keep reading to see how CLB Network helped them achieve this huge number of views.
The Challenge
Deffenbaugh Homes is an award-winning luxury builder that builds inspired residences in the Sioux Falls metro area. They have been building in the area since 2000, and work with nationally recognized architects and interior designers to create the homes of their clients' dreams. However, Deffanbaugh was struggling to find out how to reach people who were interested in moving to, retiring to, or investing in the Sioux Falls area. While some of their prospective clients were already living in the region, many were scattered across the country. That's where CLB came into the picture, and we helped them reach their desired audience. Read on to see how we solved Deffenbaugh Homes's issue.
FREE AUDIT: Do you ever wonder why you miss out on connecting with best-fit clients and building those great projects? Maybe the issue lies in your marketing and sales strategy - or lack thereof. Click here to fill out our 3-minute audit and see how your approach to marketing and sales can be elevated.
Our Strategy
While CLB Network has worked with Deffenbaugh Homes to achieve success in a multitude of ways, this case study focuses on how we created blog content that received a phenomenal amount of views. When creating blog posts, we had two goals in mind. First, we focused on content that would drive qualified best-fits to plan, build, buy, or remodel a home. Secondly, we produced content that would disseminate valuable information to educate and help address pain points while establishing Deffenbaugh as a thought leader in the industry to build trust and legitimacy.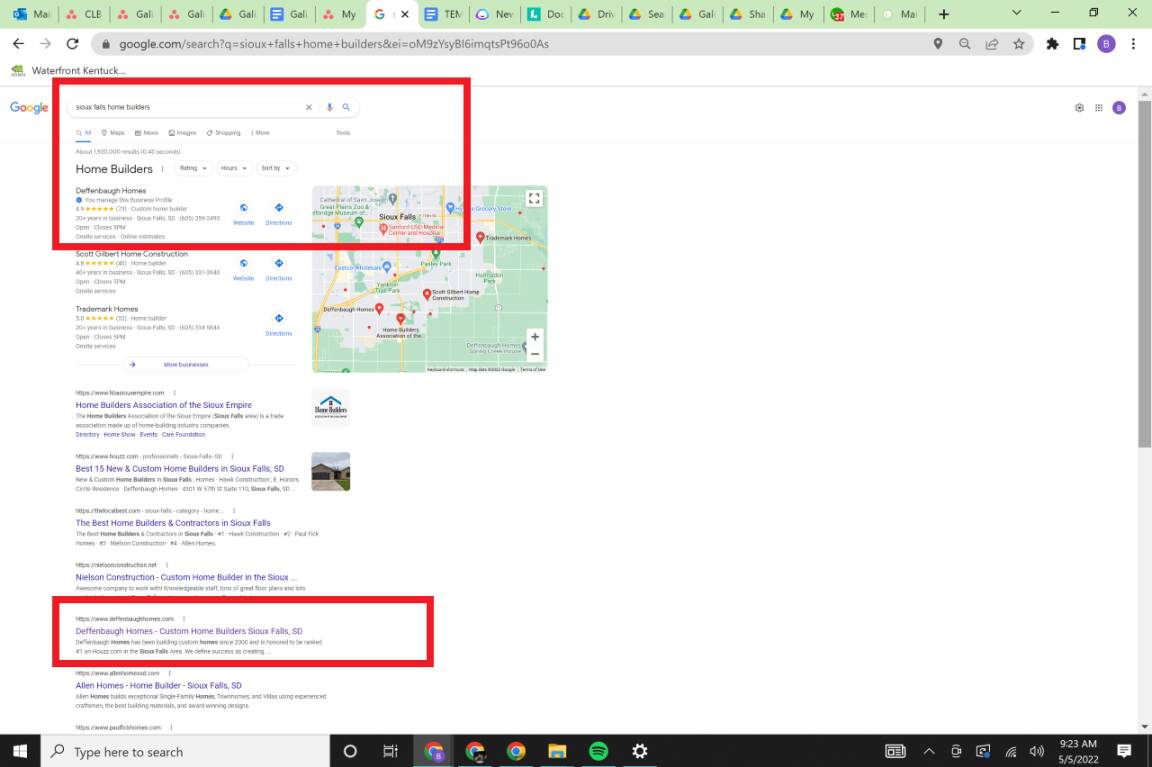 The Results
By targeting specific topics of interest with our blog content, we were able to reach the desired audience and garner more awareness for Deffenbaugh Homes. The blog content strategy that we rolled out performed extremely well, and led to Deffenbaugh's website, as well as many of our blog posts on the website, to being ranked on the first page of search results and in the featured snippet on Google. Getting over 60,000 views for the Deffenbaugh Homes blog proved to be monumental in gaining awareness for their brand and attracting more best-fit clients to the company.
Thanks to CLB's blog content strategy, as well as our other marketing and sales tactics, luxury home builders are achieving the success that they've always dreamed of, and getting to build the projects of their choosing. Download our latest case study for more details on how we helped the Deffenbaugh Homes blog reach over 60,000 views. Then, contact CLB Network today to get in touch with our team of experts, who will work diligently to help your luxury home building company increase your pipeline of best-fit clients and achieve the growth and success you've been looking for.
Free Case Study!
Case Study: How We Got 60,000 Blog Views From Top Ranking On Google
Learn how our luxury home builder's blog drove quality website traffic through SEO, achieved top ranking on Google and generated over 60,000 views in a year.
The Certified Luxury Builders Network leads luxury builders to greatness. Since 2016 CLB Network and builders across the nation with annual sales ranging from $5M - $50M have worked together to deliver a 5-Star experience and become market-leaders. Working with one great company at a time, CLB gives builders the tools, training, and support to achieve success in Quality, Profit, and Pipeline freeing leadership to work on—not in—their business.
We're here to help builders. Experience and expertise is just a click away. Contact us today to see how your business measures up to our builders' benchmark, learn what "GREAT" looks like, and see how CLB can take your business to the next level.