"CLB has carefully planned and implemented a comprehensive distribution strategy built around knowing when to distribute your content at the right time and in the most effective way possible to reach your target audience. Download CLB's content marketing strategy guide to learn how our dynamic content marketing strategy for luxury builders is designed to elevate your business, help you dominate your market, and increase your pipeline." ~ Mike Myers, CLB Network
FREE AUDIT: Do you ever wonder why you miss out on connecting with best-fit clients and building those great projects? Maybe the issue lies in your marketing and sales strategy - or lack thereof. Click below to fill out our 3-minute audit and see how your approach to marketing and sales can be elevated.
CLB'S CONTENT DISTRIBUTION STRATEGY USES THE STRONGEST CHANNELS TO REACH YOUR TARGET AUDIENCE
Simply put, content distribution is a crucial part of marketing wherein, once you create content, you ought to make use of the strong channel to distribute your content. This distribution in return will help you drive traffic to your content: blog, website, social media, and so on. Mere creation has no value when it is not reaching your best-fit prospects. Below we outline CLB's 6-step distribution process to achieving success and dominating your market:
Understand your target audience
Research where your audience is active
Create content they are looking for
Create copy that positions you as an authority
Interview your customers and share success
Evaluate, rinse, repeat
HOW THE DIGITAL MARKETING TRIFECTA WORKS TOGETHER TO DRIVE TRAFFIC TO YOUR CONTENT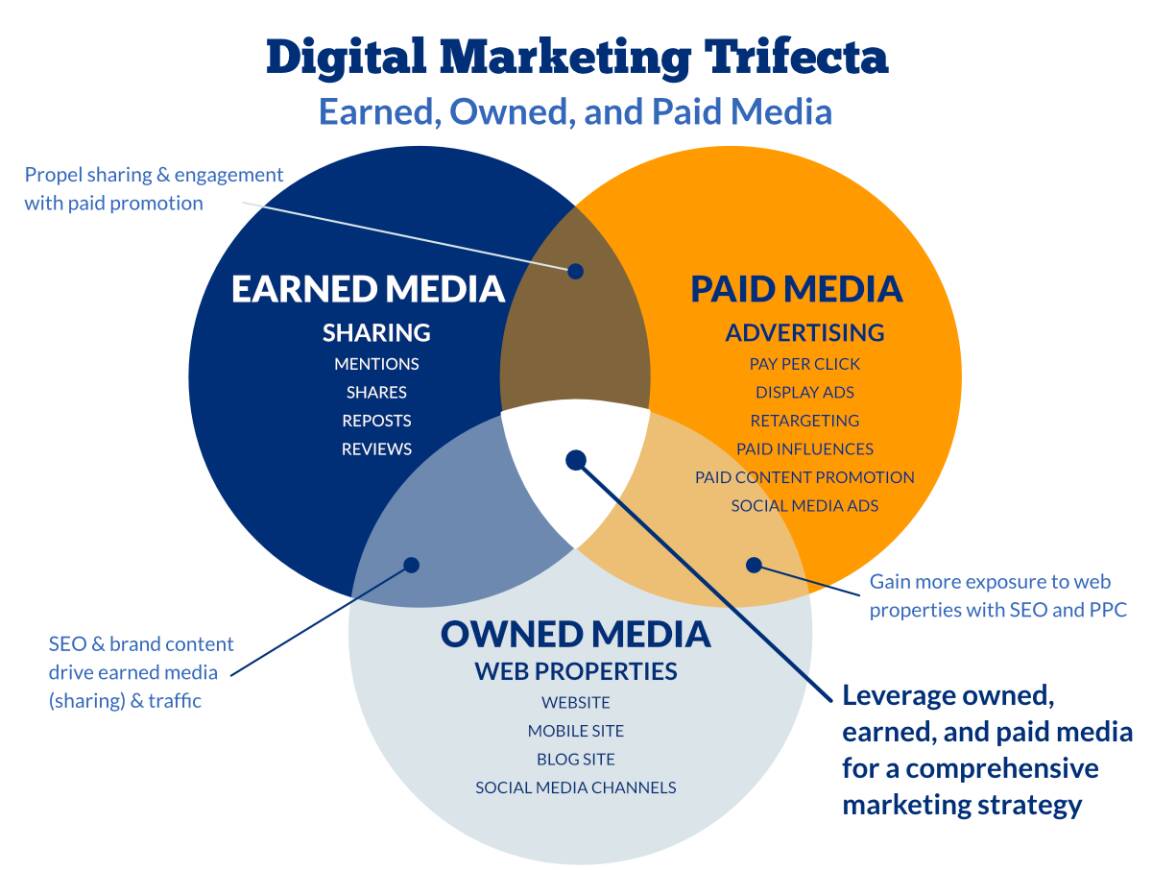 Owned media: the channels that belong to you, where you control the content. This can be your blog, website, email, newsletter, and social media profiles
Earned media: where others share your content. This can take the form of social media shares, guest posts, media coverage, and product reviews.
Paid media: aptly named, the exposure you pay for. This can be pay-per-click ads, display ads, social ads, or otherwise
ENSURE YOUR CONTENT IS DISCOVERED, CONSUMED, AND SHARED
As you decide which variety of media is best for publishing your content, you must think about how each of the three different channels best operate, and how they affect the way you promote your content, from audience engagement to frequency of contact. It is also vital that you ensure your efforts pay off and that your content can be discovered, consumed, and shared by the right audiences. Digital marketing elements such as metadata, keywords/ phrases, link-building, and calls to action can help you achieve your goals in this area.
TOOLS THAT HELP THE RIGHT AUDIENCE INTERACT AND ENGAGE WITH YOUR CONTENT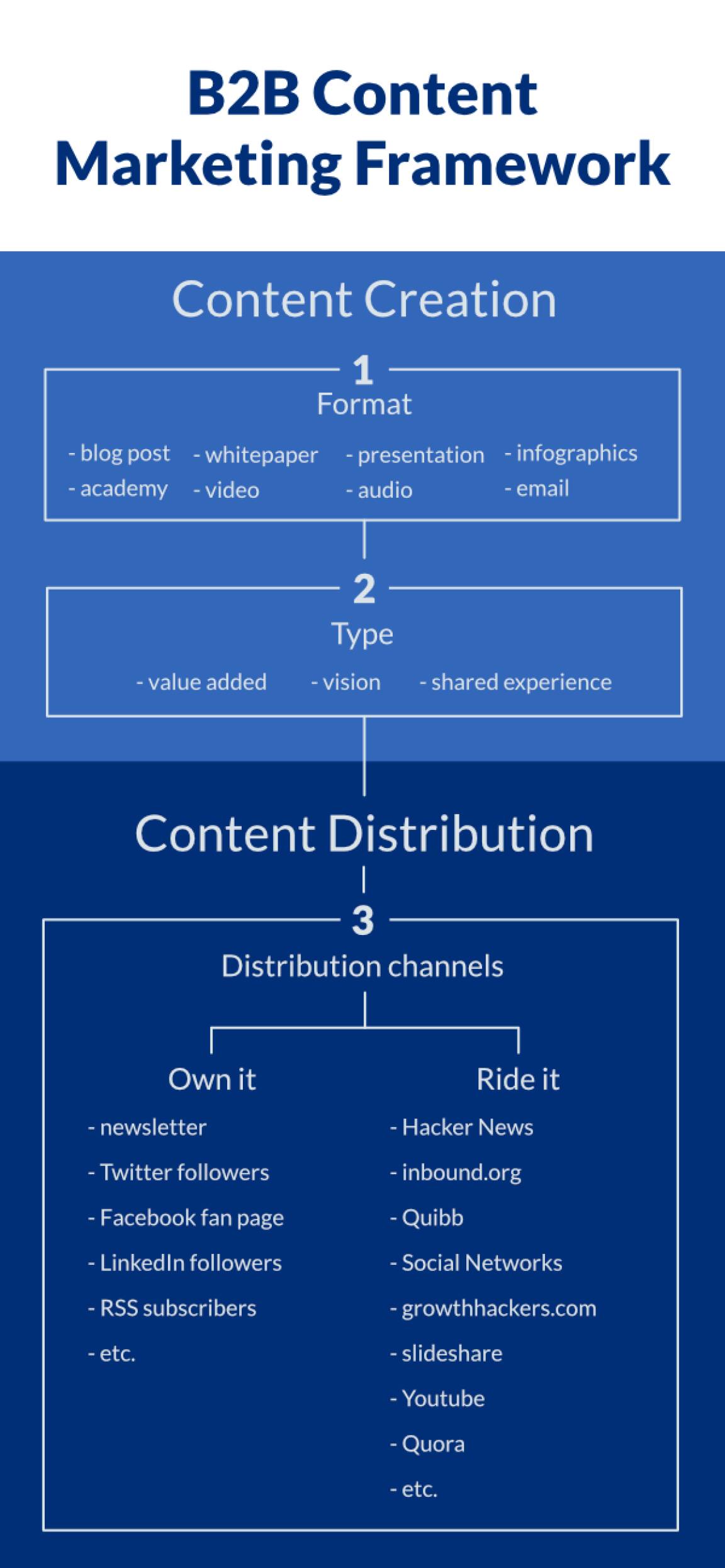 Then you must synthesize all the possible tools that accomplish content distribution in each of the three channels, working your ideas together into a single strategy. For many of us, the two free channels for content distribution—owned and earned—make for a huge number of possibilities for ensuring our content is seen and heard. If you'd rather not pay for any extra distribution, there are plenty of owned and earned channels to try. In light of the sharp decline of organic reach on social media, changing search trends and algorithm adjustments, the unpaid playing field is growing more complicated, making paid promotion an increasingly smart move. Should you choose to use paid media, you need to get smart about measuring your paid and earned content distribution efforts. The right analytics will show you where you should focus your efforts and which channels aren't worth your time.
Finding your best-fit clients is the key to building success in your business. Do you have your target market clearly identified and are you on top of your strategy to reach them? Use this worksheet to zero in on that perfect client and perfect the marketing strategies that will bring them to you.

EXTEND THE REACH AND IMPACT OF YOUR BEST PERFORMING ASSETS
Regardless of how you balance the Digital Marketing Trifecta, you can extend the reach and impact of your top-performing assets by periodically reusing and repurposing them. Great content recycling techniques – used alone or in combination – can help you extend the value of your older assets, place your best information in a fresh context, or add something new and useful to a popular conversation: republish it, repackage it, repurpose it, or syndicate it!
FREE GUIDE
CLB's Content Marketing Distribution Strategy For Home Builders
Simply put, content is king and distribution is queen. Download this step-by-step guide to learn how CLB's well-crafted content distribution strategy is designed to elevate your home building business and attract best-fit clients.
DO YOU HAVE A COMPREHENSIVE CONTENT MARKETING CREATION & DISTRIBUTION STRATEGY?
While these distribution strategies can be learned by nearly anyone, it can be time consuming and, to the newbie, a bit confusing. CLB has mastered all of the best content distribution strategies to help you maximize your content marketing strategy. Get in touch with us today to learn more about how we can help you achieve 'great' in your luxury home building business.
The Certified Luxury Builders Network leads luxury builders to greatness. Since 2016 CLB Network and builders across the nation with annual sales ranging from $5M - $50M have worked together to deliver a 5-Star experience and become market-leaders. Working with one great company at a time, CLB gives builders the tools, training, and support to achieve success in Quality, Profit, and Pipeline freeing leadership to work on—not in—their business.
We're here to help builders. Experience and expertise is just a click away. Contact us today to see how your business measures up to our builders' benchmark, learn what "GREAT" looks like, and see how CLB can take your business to the next level.