CNBC's Diana Olick reports on August's existing home sales ...
What the number means for supply and house market value
Key points
The Commerce Department said on Thursday new home sales rose 4.8% to a seasonally adjusted annual rate of 1.011 million units last month, the highest level since September 2006.
July's sales pace was revised upward to 965,000 units from the previously reported 901,000 units.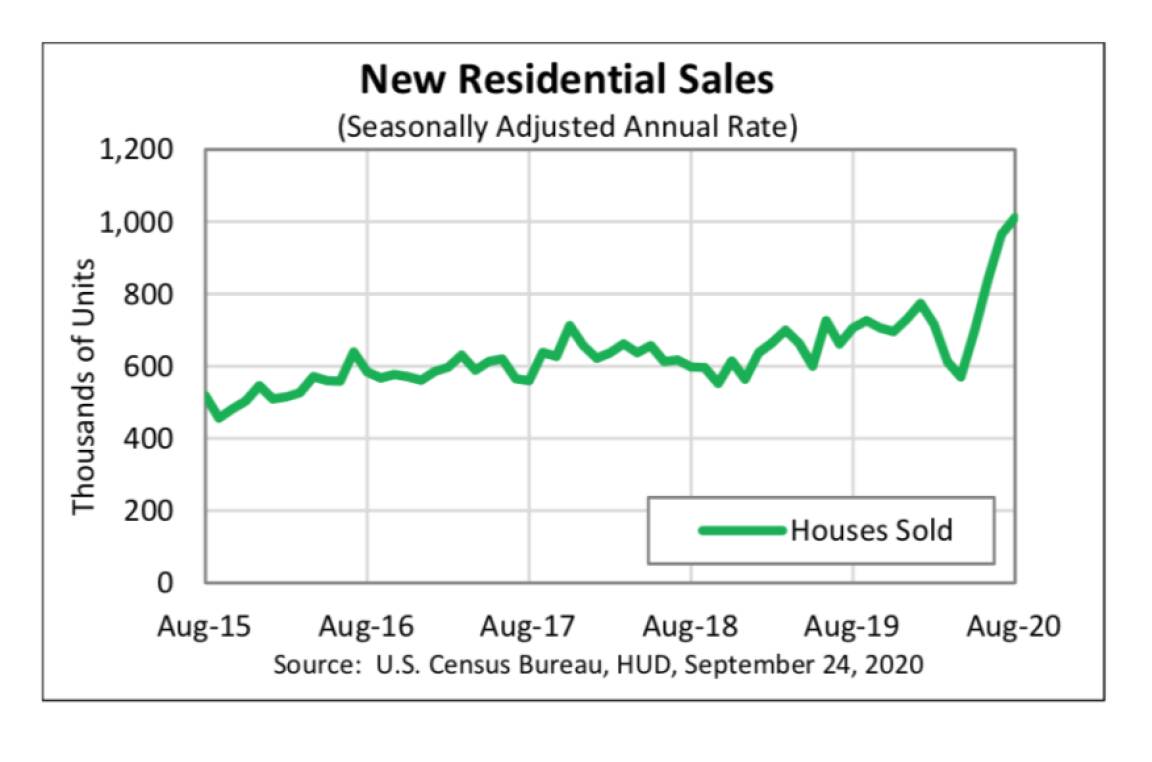 In today's market, if you build it, they will buy it
Sales of new construction single-family homes in August jumped 4.8% above the revised July rate and 43.2% year over year, according to the U.S. Census Bureau and the Department of Housing and Urban Development.
Estimates reveal that new-home sales were at a seasonally adjusted annual rate of 1,011,000. This is above the revised July rate of 965,000 and significantly above the August 2019 estimate of 706,000.
"In today's housing market, if you build it, they will buy it. August new-home sales topped an annual rate of 1 million for the first time since 2006. The accelerated pace is no surprise, given the growing demand for homes and lack of existing homes for sale," noted First American deputy chief economist Odeta Kushi.
Fannie Mae chief economist Doug Duncan said the new-home sales report shows that housing is continuing along a "V-shaped" recovery.
"Sales rose 4.8% over the month following an upwardly revised jump of 14.7% in July. While we believe the COVID-19-related delay in the spring home buying season is likely continuing to shift purchases to later in the year, recent sales have more than made up for the spring slowdown," Duncan said. "Compared to this time in 2019, year-to-date sales were up nearly 15% in August. We believe low mortgage rates, limited availability of new construction single-family existing homes available for sale, and what appears to be increased home buyer interest in suburban areas in some metros are fueling demand for new home construction."
Looking ahead
"Looking ahead, there are two possible constraints to new-home sales. On the demand side, the potential for increasing layoffs may impact potential home buyers. Buying a home is typically the largest financial decision a person will make, and that is predicated on strong consumer confidence and job stability," said Kushi. "On the supply side, new-home sales are largely dependent on the amount of new construction being built. Supply-side headwinds, particularly high lumber costs, could constrain builder momentum."
The seasonally adjusted estimate of new construction single-family homes for sale was 282,000 at the end of August, representing a supply of 3.3 months at the current sales rate.
"We expect the strong pace of sales to cool given the relatively slower pace of construction, despite starts' recent impressive growth. At the current pace, the months' supply of new homes for sale fell to 3.3 months, the lowest level since the series began in 1963," added Duncan. "Furthermore, the share of homes sold that have yet to be started rose to almost 34% of sales, the highest share since late 2017 and up from April's low of 20%. The greater-than-expected increase in sales, coupled with previously reported increases in housing starts, will likely lead us to further upgrade our forecast for new-home sales and construction for the remainder of the year."
The median sales price of new houses sold in August was $312,800, and the average sales price was $369,000. These numbers are down from July, when the median sales price of new houses sold was $330,600 and the average sales price was $391,300.
RELATED GUIDE
How To Increase Your Construction Pipeline
Growing your home building business means growing your client base, your pipeline. But how do you increase your pipeline and improve your win percentage? Do you have a clear strategy that supports the types of projects you want? Is hope part of your strategy?
The Certified Luxury Builders Network leads luxury builders to greatness. Since 2016 CLB Network and builders across the nation with annual sales ranging from $5M - $50M have worked together to deliver a 5-Star experience and become market-leaders. Working with one great company at a time, CLB gives builders the tools, training, and support to achieve success in Quality, Profit, and Pipeline freeing leadership to work on—not in—their business.
We're here to help builders. Experience and expertise is just a click away. Contact us today to see how your business measures up to our builders' benchmark, learn what "GREAT" looks like, and see how CLB can take your business to the next level.